Jane Fonda Talks Face Lifts, Breast Implants at Cannes Film Festival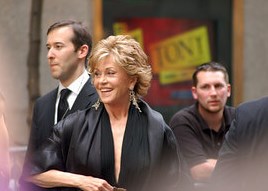 Now in her eighth decade, world-renowned and respected actress Jane Fonda recently discussed her lifetime of cosmetic surgery at the 2013 Cannes Film Festival.
Fonda, now 75, has had a long-arching career that spanned film and the personal fitness world. According to a recent article by the United Kingdom's Harley Medical Group, she has openly discussed her many cosmetic surgeries over the years, and has also been able to talk about her 20-year battle with eating disorders. In her words, "When I was 45, I was going through a 20-year battle with anorexia and bulimia. I think it was just a matter of deciding that I was either going to live or die. I went for the light. I went for living."
Fonda Recommends Good Facials, Subtle Cosmetic Surgery
In addition to her many leading roles in films of several decades, Jane Fonda's legacy also includes her role as a fitness expert, as one of the early fitness gurus of the modern exercise movement.
Though she says exercise is her number one beauty secret, Fonda has had a few different cosmetic surgeries over the years. At the beginning of her career, she decided to have breast implants, and then a full face lift in her forties, with a second face lift in her seventies. She recently had a chin lift and eye surgery to address the bags underneath her eyes.
Throughout these surgeries, Fonda says it was crucial to retain those aspects of her appearance that defined her as an individual. As she says, "I made sure that they kept my lines. I didn't want to lose my wrinkles; I just wanted to lose the bags under my eyes. I don't like it when it's overdone, but we do live in a time when, if you can afford a good doctor, you can have subtle plastic surgery."
Photo by Rob Young on Flickr.