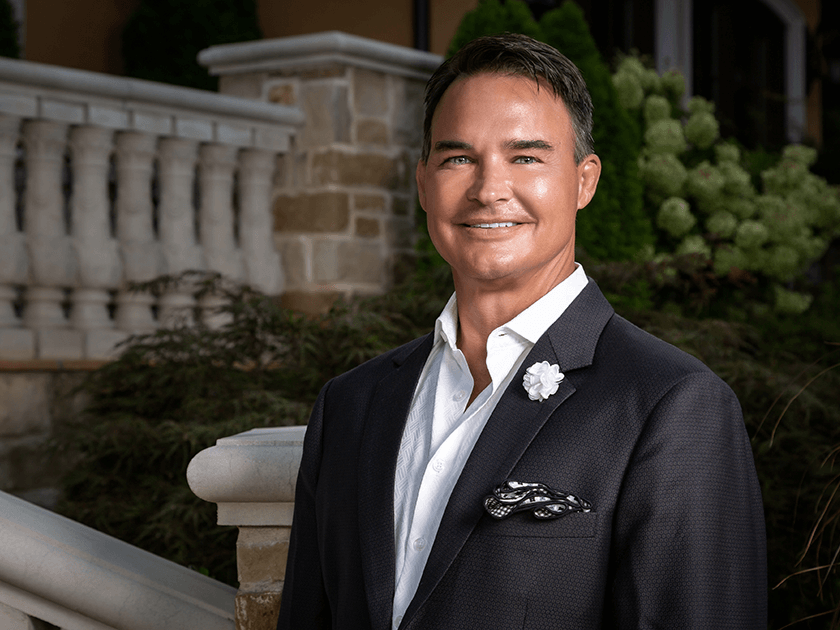 As one of the top cosmetic surgeons in the Tulsa, OK area, Dr. Angelo Cuzalina is board certified by three of the top surgical organizations in the U.S., including the American Board of Facial Cosmetic Surgery, the American Board of Cosmetic Surgery, and the Board of Oral and Maxillofacial Surgery. With a special interest in body contouring treatments for dramatic weight loss and complex facial aging surgeries, he has completed over 10,000 procedures for the face, body, and breasts. After opening his private practice in 1998, Dr. Cuzalina has since become a leader in the cosmetic surgery industry and has served as president for the American Academy of Cosmetic Surgery (AACS) and the American Board of Cosmetic Surgery (ABCS).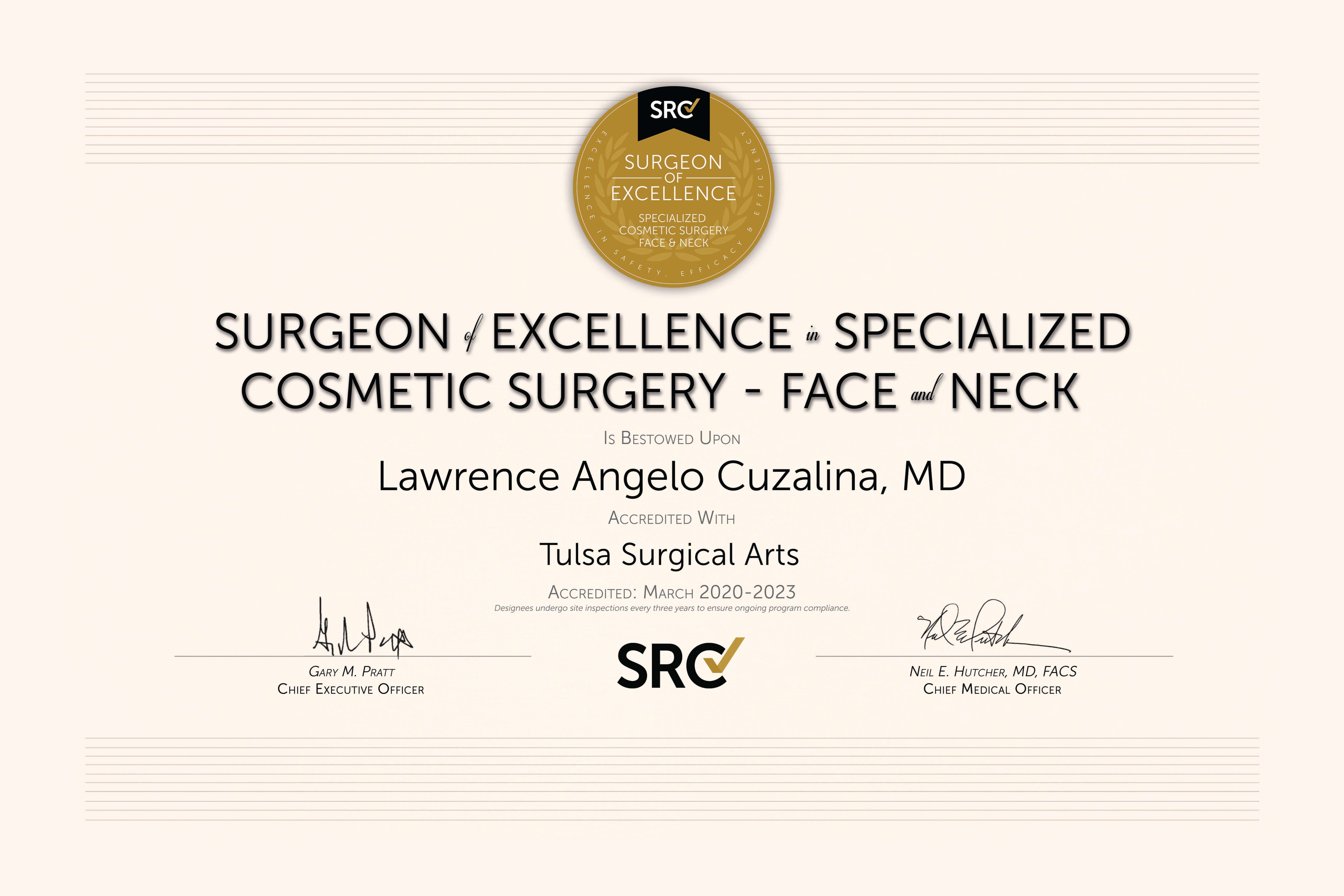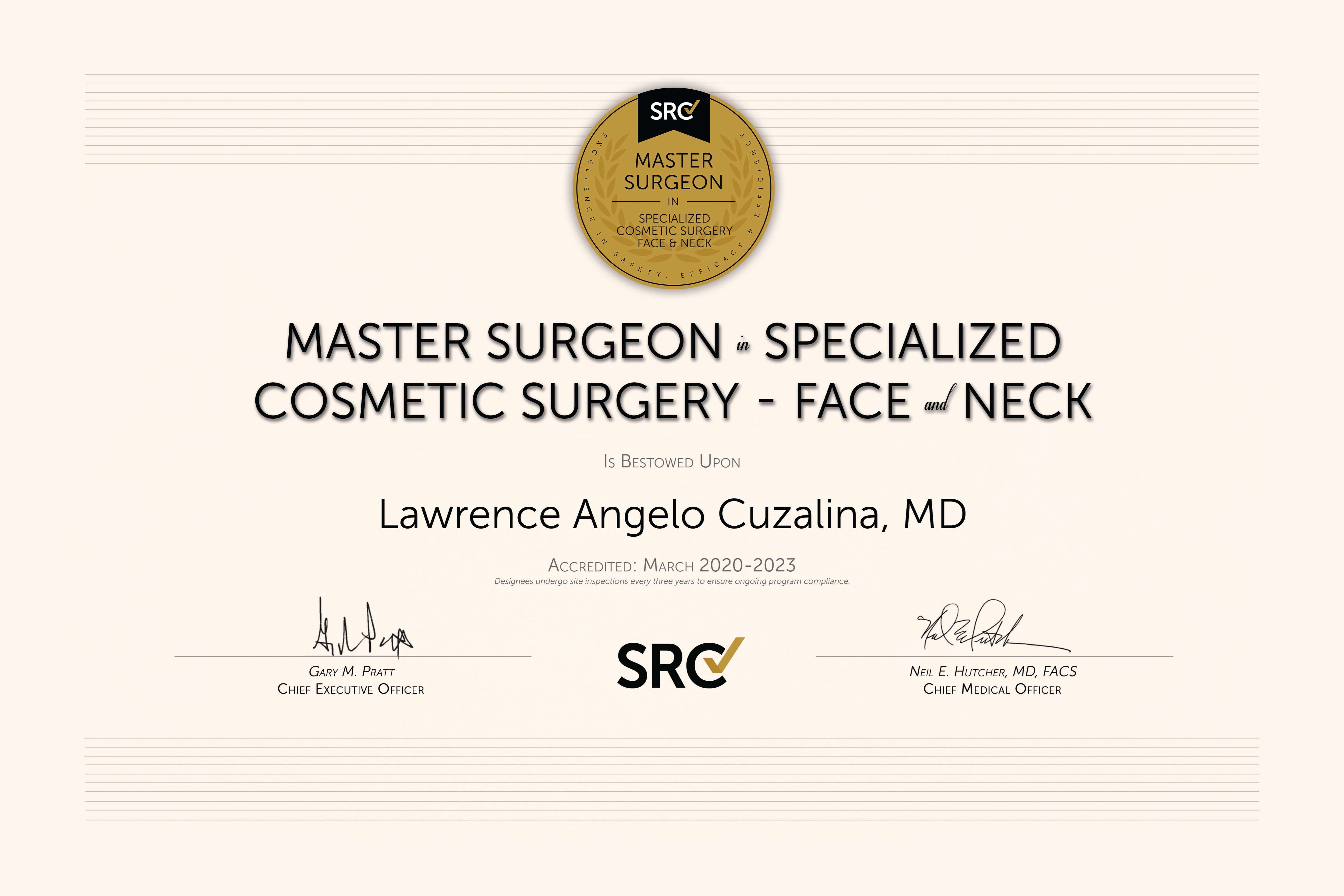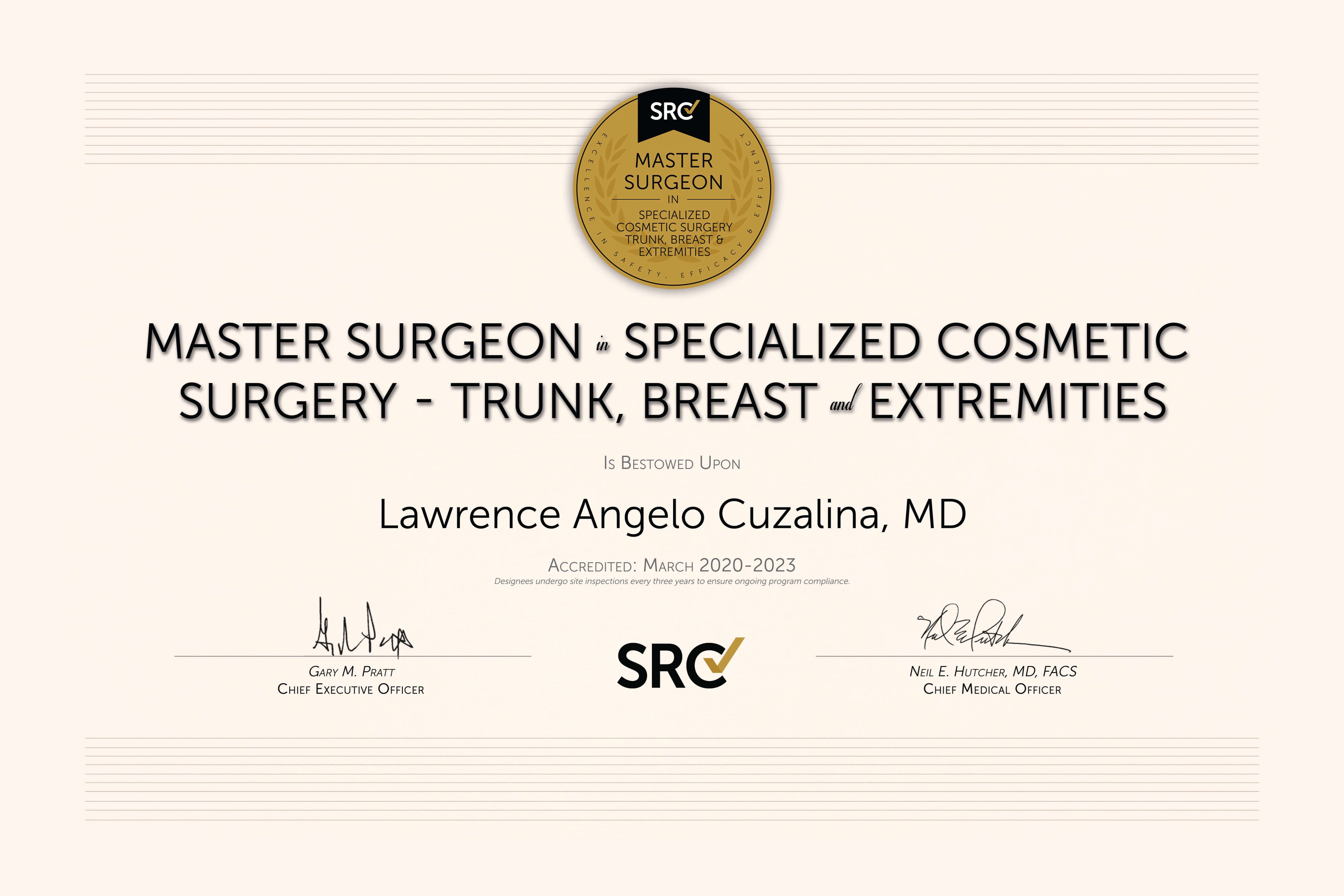 Dr. Cuzalina received his Bachelor of Science degree in physiology from Oklahoma State University (OSU). While at OSU, Dr. Cuzalina was inducted into the Alpha Epsilon Delta Honor Society and a bronze medalist at the World Wrestling Championships. Following his undergraduate work, Dr. Cuzalina attended Baylor College of Dentistry and received his doctor of dental surgery degree. Here, he ranked 2nd out of 82 students in his class and worked with several dental fraternities, including Omicron Kappa Upsilon and Xi Psi Phi. After receiving his doctor of dental surgery degree, he attended his residency at the University of Alabama School of Medicine. During this time, he focused on cosmetic and facial reconstruction. This led him to attend an intense fellowship at the Facial Plastic and Cosmetic Surgical Center in Abilene, TX.
Specialties and Expertise
Having an opportunity to train with some of the former presidents of the American Academy of Cosmetic Surgery and through his medical education, Dr. Cuzalina is an expert at cosmetic procedures, including mommy makeovers, Brazilian butt lifts, post-bariatric skin removal surgery, facelifts, and rhinoplasties. Out of the 10,000 cosmetic surgical procedures, Dr. Cuzalina has performed 3,000 breast augmentation and enhancement surgeries. No matter what type of cosmetic surgery, Dr. Cuzalina provides an artistic perspective and precise technique.
Research, Lectures, and Teaching
Dr. Cuzalina is committed to the field of cosmetic surgery. He has years of experience teaching, writing articles and book chapters, and giving lectures at major cosmetic surgery conferences or events.
Teaching
Teaching has always come naturally to Dr. Cuzalina. Over the years, he developed an AACS-accredited fellowship training program. In this exclusive fellowship training program, future cosmetic surgeons receive extensive and personal training. He has also taught live American Academy of Continuing Medical Education (AACME) surgical courses. Dr. Cuzalina regularly offers live surgery workshops for cosmetic surgeons across the U.S. and internationally. Additionally, he received the opportunity to teach in Austria. Here, he taught courses on breast lifts, breast reduction, and breast implants.
Writing and Research
Dr. Cuzalina has written several major articles and book chapters for well-known publications. Ranging from facial, breast, and body treatments, Dr. Cuzalina provides his expert knowledge about various cosmetic procedures.
Lectures
Dr. Cuzalina has spoken at different conferences across the world, including Greece, Croatia, and Italy. In 2007, he spoke in Dubai at one of the world's only hospitals dedicated to cosmetic surgery. At each event, he provides his years of experience and his gift for the art of aesthetic surgery.
Originally from McAlester, OK, Dr. Cuzalina was a state champion wrestler. Because of his skill in wrestling, he earned a scholarship, which allowed him to attend Oklahoma State University. During this time, he earned a spot with the US National Greco-Roman and Freestyle wrestling teams, and he received two world championship medals. When it comes to hard work, Dr. Cuzalina believes that it can help you achieve great things no matter your background.
Reviews
"Dr Cuzalina gave me a perfect pair of boobs after another surgeon here in Tulsa butchered me.  His staff is great! He really cares about what I thought and how I felt! I love Dr. C!"
K.E.
Yelp
"I've been coming to Tulsa Surgical Arts for years for my Botox and juvederm. Everyone from the front staff, nurses to the doctors have always been great! I have never been disappointed in any visit here. Without a doubt - when I am ready for surgery I will come here! Years later still doing all my botox and filler here. He has great nurse injectors too!"
K.F.
Yelp
"My significant other and I have both had surgical procedures done at Tulsa Surgical Arts by Dr. Cuzalina.  As a surgeon I am extremely biased and critical of any other surgeons work and would never have another surgeon operate on my family without a clear understanding of his ability and work.  Dr. Cuzalina is not just a cosmetic surgeon, he is a gifted individual with the rare talent.  His ability to manipulate tissue and reshape to what the patient's desire - is remarkable!  Both my significant other and I are extremely pleased with our surgical results and highly recommend him to our friends.  The office staff is professional and motivated to get the job done.   Being one of the busiest practices in the country you have to listen carefully to instructions and read the material that they provide for you inorder to have the best outcomes.  If you live any where in in the midwest you are blessed to have a surgeon who cares and is amazing at what he does."
B.M.
Yelp
"Loved working with Tulsa Surgical! Extremely friendly and professional individuals, very helpful in answering all your questions, efficient yet effective in what they do, 5 stars for sure! Thanks TSA for all your help!"
Q.P.
Yelp
"Very professional clean environment very sterile. I had my Botox done about a week ago and it is perfect not a sag not a droop I can't make any frown lines in my forehead, I've gone to a few places around town where I never got any effects. Very friendly staff also cannot recommend this place enough"
A.V.
Yelp
Related Posts