When Should Patients Consider Tummy Tuck Surgery?
Even with the most dedicated exercise regimen and dietary plan, stubborn fat, excessive skin, and other problem areas can be frustrating to live with when trying to achieve a more toned abdomen. At Tulsa Surgical Arts, we strive to help our patients achieve their body contouring goals using innovative cosmetic procedures. Cosmetic surgeon Dr. Angelo Cuzalina works with men and women throughout Tulsa, OK, performing tummy tuck surgeries that produce gorgeous, long-lasting results.
What is tummy tuck surgery?
Tummy tuck surgery, or abdominoplasty, is a cosmetic surgical procedure used to tighten lax abdominal muscles, such as after childbirth, and to remove stubborn fat and excess skin to give the abdomen a tighter, slimmer appearance. Age, pregnancy, hormones, and lifestyle practices can make it difficult to tone the torso through traditional practices. At Tulsa Surgical Arts, Dr. Cuzalina assesses your unique body contouring needs and creates a customized tummy tuck surgical plan to help meet your personal goals based on his professional recommendations.
When should patients consider tummy tuck surgery?
Tummy tuck surgery is suitable for men and women who struggle with stubborn fat deposits, muscle separation, and excess skin that can't be removed with diet and exercise. Patients may also benefit from tummy tuck surgery if they've experienced:
Pregnancy / Childbirth
Dramatic weight loss
Up and down weight changes with resulting abdominal skin laxity
Skin laxity over previous abdominal scars from other surgery
Patients may be ideal candidates for tummy tuck surgery if they are at a stable weight and are in good, general health. Age is not as much of a factor as general heath and the location of excess fat. Fat that is on the intra-abdominal organs (liver etc.) or intestines (visceral fat) cannot be treated with abdominoplasty. Dr. Cuzalina will review your medical history to determine if you can safely undergo the procedure and which incision type best suits your needs. Patients who are somewhat overweight may be candidates if their weight is stable, BMI < 35, and they have limited visceral or intra-abdominal fat.
Benefits of tummy tuck surgery
Tummy tuck surgery provides men and women with numerous benefits, including:
A flatter abdomen
A slimmer waistline
Hidden scarring (most below underwear level)
Limited discomfort using long-acting (72-hour) pain shot and other medication
A well-established recovery protocol, including lymphatic massage
Often better muscle position and tone.
What the surgical process is like
Our tummy tuck surgeries are performed by Dr. Cuzalina at Tulsa Surgical Arts using general anesthesia. Once you are unconscious, Dr. Cuzalina will make careful incisions according to the protocol selected to help meet your goals. Some patients may need a mini tuck, while others may benefit from a full tummy tuck to remove a more significant amount of fat and skin. Any muscle separation that is present is repaired with sutures followed by excision of excess fat and skin. Additional liposuction is commonly performed simultaneously to get rid of excess pockets of fat that the tummy tuck does not address. One common area of liposuction during a tummy tuck is liposuction to the hips or love handles. Once your surgery is complete, and the incisions are sewn up, patients are discharged to a recovery room to be monitored prior to returning home.
What does recovery look like after tummy tuck surgery?
Patients are sent home with a compression garment and recovery instructions to optimize healing and reduce the risk of postoperative complications. Patients should expect discomfort and tenderness with walking and movement. Dr. Cuzalina wants you up walking by the next morning. Typically, after two weeks, patients can resume fairly normal, nonstrenuous activities. In approximately 6 – 8 weeks, most patients can expect a full recovery and notice significant body-contouring results. There will be some additional shrinkage of some edema for up to 8 months, and scars will continue to improve for over a year.

Can I combine a tummy tuck with other cosmetic surgical procedures? 
Depending on Dr. Cuzalina's recommendations and your personal body contouring goals, you may combine tummy tuck surgery with other cosmetic procedures. Common choices may include breast surgery or a limited few extra areas of liposuction.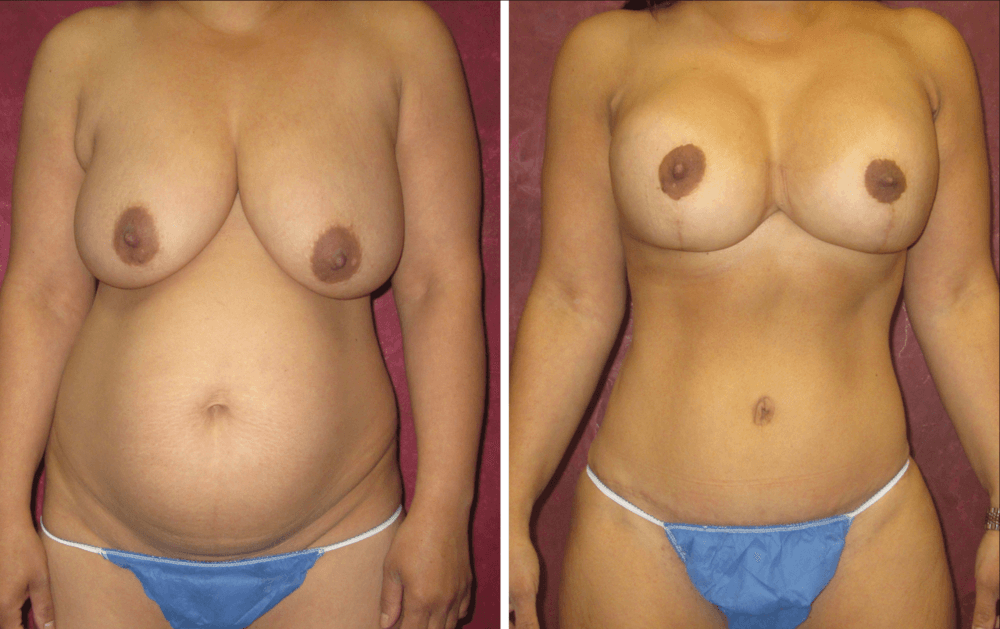 This photo was taken six weeks post-op. The before photo reveals classic rectus muscle separation and bulging. Both tummy and breast changes were due to pregnancy and having children. Dr. Cuzalina fixed the muscle issue as well as the fat and skin issues.
How long do tummy tuck results last?
Tummy tuck surgical results have the potential to last for many years or even a lifetime as far as improvements that are comparable to their appearance prior to surgery. If patients adhere to their recovery precautions and maintain a healthy weight, they may decrease the risk of compromising their surgical outcomes.
Learn more about tummy tuck surgery in Tulsa, OK
If you reside in or near Tulsa, OK, and are living with stubborn fat deposits and excess skin around the abdomen that's keeping you from reaching your body contouring goals, contact us at Tulsa Surgical Arts and schedule a consultation today. Dr. Angelo Cuzalina will work with you and assess your health status to ascertain if tummy tuck surgery is right for you.